Driveway Pavers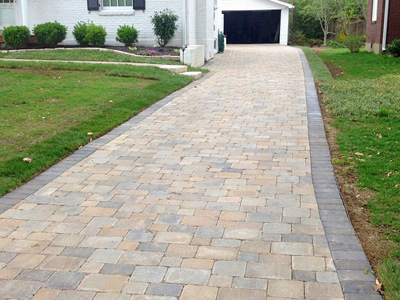 Your driveway receives a great deal of traffic, as you're likely to use it regularly, and it's also the first thing your visitors notice when they arrive. A well-designed residential or commercial paver driveway can heighten your visitors' or guests' anticipation and make a lasting impression. This surface must be visually appealing while still being practical and enduring.

We at Preferred Outdoor Designs LLC are proud to have many long-term clients in and around Louisville, KY. We provide commercial and residential clients with high-quality driveway paver installations. Some property owners want to add grandeur and drama to their property's entrance, designing impressive curving driveways. Others prefer straight driveways with a modern or contemporary design, and we can help you with the best solutions.


Factors Influencing Driveway Design
When planning a driveway, there are various factors to consider, such as:
The driveway size is determined by the amount of space available on your property and the width you choose for this feature.
You may also need to examine the terrain. A steep slope and uneven terrain with trees or boulders may all alter the structure and design.
The paving material chosen in the construction of your driveway is always critical.
Consider if you want a spectacular entryway to your property or something understated.
The location of your garage may also impact the style of your driveway.

Our experts will help you with all the details you need, and they will also provide their input and ideas for the best driveway paver design and layout.

We help with all aspects of your project, from conceptualization, planning, designing, detailing, and driveway paver installation.


Types of Driveway Pavers
Your design preferences, needs, and budget determine the material you choose to construct a driveway. The many types of pavers available include the following:


Concrete Pavers: Concrete pavers are available in different colors and are an affordable alternative for paving a wide driveway. Most homeowners like this material due to its durability and low maintenance requirements. Concrete offers a variety of driveway alternatives. They come in multiple sizes and shapes, making it easy to create one-of-a-kind designs on your driveway.


Brick Pavers: Brick paving is also quite popular, as it lends an old-world, rustic appeal. Although brick driveways are simple to maintain and repair, they may be slightly more expensive than concrete. Many people, however, believe that the design and surface characterization of brick justify the cost. It needs only a simple wash with soapy water to retain its appearance and color. If a brick paver develops a fracture, you can replace just that unit easily.


Natural Stone Pavers: These products have been around for a long time and are incredibly durable and attractive. They come in an interlocked design that helps keep them in place. You can choose from different types of natural stone paving, including slate, bluestone, sandstone, travertine, and more.


Call Preferred Outdoor Designs LLC at 502-245-3997 or write to us through this Online Form for more information about paver driveways. One of our team members will call you to get your driveway paver installation details.