Outdoor Kitchens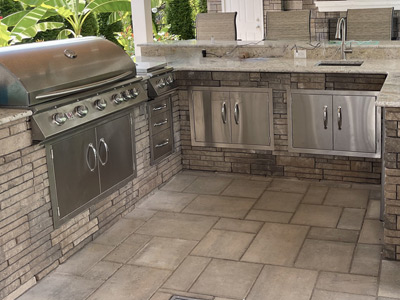 Preferred Outdoor Designs LLC is your premier destination for outdoor kitchens in Louisville, KY. We specialize in designing and installing custom outdoor kitchens that are functional and add beauty and value to your outdoor living space.

Our team of experts has years of experience designing and installing outdoor kitchens of all sizes and styles. We are committed to delivering the highest quality services to meet each of our clients' unique needs.


Outdoor Kitchen Design and Installation
Are you looking to add a functional and beautiful outdoor kitchen to your living space in Louisville, KY? Look no further than Preferred Outdoor Designs LLC. Our team of skilled professionals is dedicated to designing and installing custom outdoor kitchens tailored to meet your unique needs and preferences. With years of experience in the industry, we offer top-quality services to ensure customer satisfaction.

Our comprehensive outdoor kitchen services include design, installation, and maintenance. We work closely with you to create a custom outdoor kitchen that reflects your style, budget, and space limitations. Our designs range from traditional to modern and rustic, offering a variety of options to choose from.

Once we've completed the design process, our installation experts use only the highest quality materials to build your kitchen, ensuring its longevity and durability. We strive to complete the installation process quickly and efficiently, minimizing disruptions to your daily routine.

Choose Preferred Outdoor Designs LLC for your outdoor kitchen needs and experience personalized service and exceptional quality that delivers the best value for your money.


Fireplace Design and Installation
A fire feature in your outdoor living space is a perfect way to keep warm on chilly nights. A stone fireplace provides warmth and beauty to your garden, making it an excellent addition to your outdoor kitchen. Our team constructs unique outdoor fireplaces using high-quality brick, concrete, and stone materials. We will also design the area around the fire pit with durable pavers and seating walls.

If you love the appearance of stone but want to avoid dealing with the weight of natural stone, we can create a stone-clad concrete outdoor fireplace. Paver stone fireplaces are available in various colors, easy to install, and are visually appealing. Our experts will work with you to find the best solution for your specific needs and preferences, ensuring you receive the greatest return on your investment.


Custom Designed Outdoor Kitchens
When designing your outdoor fireplace and kitchen, we put the needs of our clients first. Our professional staff will work with your specific requirements, aesthetic preferences, and financial constraints to develop a plan that meets your demands and exceeds your expectations. Call us if you want your installation to last years without breaking the bank. You can count on us to make your outside area a beautiful and practical paradise.

Preferred Outdoor Designs, LLC offers end-to-end hardscaping services to residential and commercial customers. For more details, call us at 502-245-3997 or drop us a line through this Online Form, and we will contact you soon to discuss your driveway or patio installation requirement.