Hardscaping Services In La Grange, KY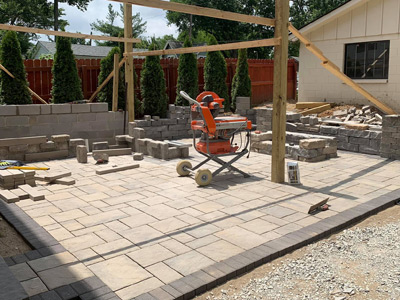 It is necessary to include various elements to achieve balance in a landscape. It implies that you must carefully plan and design the exterior spaces of your property. Installing the appropriate hardscaping and softscaping components can help increase your yard's usability, value, and appeal. Preferred Outdoor Designs LLC collaborates with clients to ensure they receive top-notch hardscaping services in La Grange, KY.


Range of Hardscaping Services
We are well-versed in designing and installing hardscapes for commercial and residential properties. With a systematic approach, our team will consult with you and offer suggestions for the look and feel of your project.

They will also provide samples of the materials they will use so you can choose the look and feel of your masonry features. We offer a wide variety of hardscaping services, all under one roof, including:


Paver Installations for Patios
Your patio is an extension of your home's living space, making the outdoor area more usable. Pavers can be used in various outdoor spaces on your property, including patios, and are strong and adaptable. Pick from natural stones, brick, or concrete pavers to create the look you want. Installing these units is quick and easy so you can have a patio within the shortest time. Our professionals will create a small space with pavers that have a smooth surface to ensure that the area has a firm foundation for your outdoor furniture. Consider constructing a rather distinctive patio corner out of concrete, clay pavers, or natural stone, with a water feature or a fire feature in the middle.


Paver Installations for Driveways
When guests or customers arrive at your home or business, they will first see your driveway. Unfortunately, it receives foot and vehicle traffic and must contend with dirt, grime, and debris and must also resist the sun's harsh UV rays. It's not surprising that it quickly loses its luster and vibrancy. We advise going with a paver driveway because they are proven to be better than gravel, asphalt, or concrete ones. These days, a wide range of brick, concrete, and natural stone pavers are easily accessible, and we can help you select the most suitable ones for your property. Those with an interlocking pattern are also excellent in every way. Any outdoor pavers you choose will improve the visual appeal of your driveway and property's exterior.


Why Choose Paver Patios and Driveways?
Using paving stones instead of asphalt or concrete for your driveway comes with several advantages, some of which are listed below:


Pavers offer excellent functionality, and you won't need to be concerned about slipping or losing traction when walking on them.


You can pick from various options, and you're sure to find some stone, brick, or concrete pavers that you like in terms of texture, color, and design.


Only the best components and workmanship are used when building paver driveways, which are perfectly sealed. This ensures that the surfaces will last for decades.


Clients often ask us, first and foremost, if the paved areas will be easy to maintain. We only use the best materials in our work, and pavers are low maintenance, reducing your cost of ownership.


Brick pavers are remarkably durable and won't break easily. There is also the obvious benefit that individual units are easy to replace if ever damaged.


In addition to these services, we also offer retaining wall installations, outdoor kitchens, decks, walkways, pathways, and other hardscaping services in La Grange, KY; call Preferred Outdoor Designs, LLC, at 502-245-3997 or write to us through this Online Form for more information. One of our team members will call you to get your project details.