Hardscaping Services in Anchorage, KY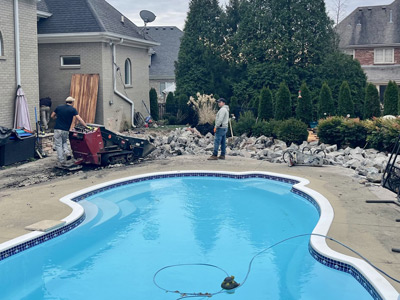 Decks, patios, outdoor kitchens, or other paved areas need careful preparation and high-quality materials and equipment. Preferred Outdoor Designs, LLC provides customers in and around Anchorage, KY, with high-quality hardscape pieces of their choosing because we value all these factors. We work with commercial and residential customers, tailoring our services to meet their needs and realize their ideal outdoor living areas. We can assist in planning, designing, and implementing hardscapes of any scale, including new construction, restorations, and yard enhancements.


Range of Hardscaping Services
We take great care to ensure that the final product reflects the homeowners' tastes and tastes and complements the structure. We'll keep the softscaping and plants in mind when planning and constructing hardscapes. This all-encompassing service raises the market worth of the house and creates spaces that are both visually appealing and very practical. Among the many hardscaping services, we provide are the following:


Paver Patios and Decks
The use of retaining walls may improve landscape stability and address problems caused by things like soil erosion and uneven ground. They are often recommended for areas of uneven terrain outside. These high-quality pillars reduce the potential for floods, dramatically improving your surroundings' stability and aesthetics. Professionals at our company can design elements that include plants and seating, which are an integral part of the design. Our work on your retaining wall will increase your property's value and visual appeal.


Retaining Walls
Retaining walls are a practical solution to the problems of soil erosion and sloping terrain. They are often recommended for outdoor spaces where grading is an issue. You can trust us to ensure that the retaining wall we build for you is sturdy and aesthetically pleasing. Concrete, natural stone, brick, and wood are common construction materials for these buildings. Our individualized strategy guarantees that the final product meets your specifications and works in harmony with your current environment.


Driveway Pavers
By carefully planning the layout of the driveway and installing a smooth paver surface, we can make the yard more aesthetically pleasing and more convenient to move about in. Using the yard or landscaping plan as a guide, we arrange the pathways' arrangement and design to make the exteriors look neat. We'll check that your property's walkways have consistent components and a practical layout.


Paver Steps, Walkways and Pathways
Adding paver steps to your landscape or yard is a great way to improve the curb appeal of your outdoor space. We are proud to provide our customers with professional paver steps installations. Our team of expert designers can finish residential and commercial projects to standard, ensuring that your exterior features will endure for years.

Numerous companies now produce pavers in a wide range of sizes, colors, and styles enabling creative designers like ours to design stunning outdoor spaces that look great, last long, and perform well for many years. Create a one-of-a-kind look by mixing and matching different sizes, forms, colors, and materials.

Adding a paver walkway is a great way to enhance the visual appeal of your environment and give your outdoor spaces a unique character. Adding well-thought-out walkways to your landscaping can do wonders for the aesthetic appeal of your home and the ease with which people can move about in the yard.

No matter what aesthetic you're going for, we can help you develop beautiful and practical walkways. Different pavers can be used in various designs and patterns due to the wide range of available shapes, sizes, styles, and colors.


Superior Hardscape and Paver Installations
Contact our company when you're ready to tackle your next hardscaping job. We provide an ideal medium between premium quality and reasonable rates. Our reputation for delivering projects on time and up to par with industry standards has made us a go-to for many local businesses.

Pavers, driveway pavers, outdoor kitchens, paver patios and decks, stairs, pathways, walkways, and more are some of the hardscaping features we design and install in Anchorage, KY. Please get in touch with Preferred Outdoor Designs, LLC at 502-245-3997 for further information. You can also get more information about our services by writing to us through this Online Form.