Hardscape Services in Highlands, KY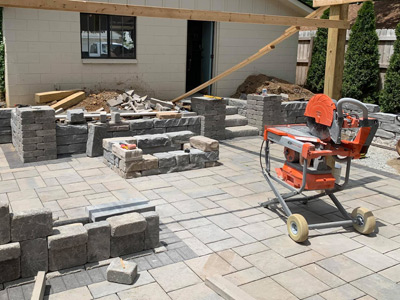 Outdoor areas like patios, decks, outdoor kitchens, and other paved surfaces need proper planning and good quality products and materials. At Preferred Outdoor Designs, LLC, we recognize the importance of all these aspects and offer our clients in and around Highlands, KY, superior hardscape elements of their choice. We work with commercial and residential clients, customizing our services, so they get the outdoor spaces they envisioned.


Hardscaping
We have extensive hardscape design expertise and handle each job professionally. We work closely with residential and commercial customers, designing the most practical and attractive hardscapes possible. We can help design and install hardscapes from the ground up or with smaller addition, renovations and yard upgrades as needed.

Our company installs patios, decks, outdoor kitchens, driveways, walkways, pathways, fire features, and more. We have the resources, technical knowledge, and creativity to manage your entire project. Each solution is tailored to your requirements because each client is unique and has a distinct style.

Our work represents the homeowners' preferences and complements the building, and hardscape construction always goes together with softscape and planting installation and planning. We will consider the softscaping and plantings while designing and constructing hardscapes. This comprehensive service adds to the property value and results in attractive and functional areas.


Patio Pavers
Choosing suitable materials and coordinating them with the other hardscaping components in the yard is necessary if you want your patio area to be long-lasting and low maintenance. Patio pavers are a great material choice, and we only work hard to offer our customers the best products. We construct top-notch paver patios as part of our hardscaping services.

Due to the wide variety of paver products available on the market, we provide you with all the details you need to make an informed choice. Pavers come in various forms, dimensions, colors, and patterns. Our professional will work with you to design a patio, walkways and pathways that lead to your backyard or landscape. We offer customized patio paver installation at the lowest possible costs, ensuring that you get stunning outdoor spaces with exceptional value. Our knowledgeable team is committed to attending to your unique patio requirements.


Driveway Pavers
Paved driveways are a typical component of most commercial and residential properties. Because they are so much more resilient than asphalt, concrete, or gravel, interlocking pavers are so popular for driveways. Paver driveways with proper maintenance can endure for decades, increasing the return on your investment.

These surfaces look great in any environment and are easy to install. You can choose pavers made of brick, concrete, or stone, and we'll provide you with the ideal designs and suggestions. Additionally, our crew will help you replace your outdated poured concrete driveway with a far more attractive paver installation if that is what you need.

We install all components correctly, so they are sturdy and long-lasting, which is vital in high-traffic areas. Our skilled paver installers complete each driveway paver job in compliance with industry standards to give you the best and most durable external surfaces possible.


Superior Hardscape and Paver Installations
Please call Preferred Outdoor Designs, LLC looks forward to working with you on your next hardscaping project. We offer you the perfect balance of high-grade services at prices that suit your budget. Timely project completion to industry standards makes us one of the most preferred companies in the region.

We design and install patio pavers, driveway pavers, and hardscaping elements in Highlands, KY, including outdoor kitchens, paver decks, steps, walkways, pathways, and more. For more details, please call Preferred Outdoor Designs, LLC at 502-245-3997. You can also get more information about our services by writing to us through this Online Form.