Water Features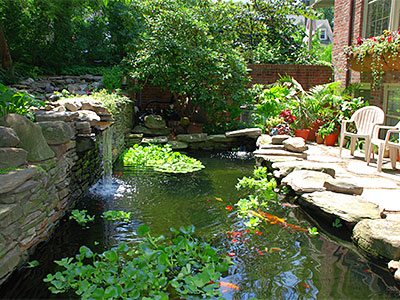 Water features breathe life and freshness into outdoor spaces. The gentle trickle of water, the play of light on its surface, and the soothing sound create a dynamic focal point. They introduce a sense of movement, inviting nature to interact with the environment.

Beyond aesthetics, water features infuse the air with moisture, promoting a healthier atmosphere. They attract wildlife, from birds to butterflies, adding a touch of liveliness to your surroundings. With their serene presence, water features offer a unique sensory experience, transforming any outdoor area into a vibrant sanctuary of rejuvenation.


Local Water Feature Specialists
We at Preferred Outdoor Designs LLC specialize in tailored water feature design and installation in Louisville, KY. Our experts collaborate closely with you to understand your vision and preferences.

This personalized approach ensures that every design is unique and perfectly aligned with your outdoor space. Using top-quality materials and advanced techniques, we bring your water feature to life, creating a stunning and harmonious addition to your landscape.


Our Water Feature Offerings
Discover a range of water features that can transform your outdoor space into a serene oasis. Whether you seek tranquility or a visual focal point, these options cater to diverse preferences and styles:


Ponds - Create a soothing aquatic haven with various sizes and shapes of ponds. From tranquil reflecting ponds to vibrant koi ponds, they add a touch of nature's charm to your surroundings.


Fountains - Fountains exude elegance and grace. Choose from classical tiered designs, contemporary sculptures, or wall-mounted fountains that offer a mesmerizing play of water and light.


Waterfalls - Embrace the grandeur of nature with custom waterfalls. Whether subtle trickles or cascading falls, they infuse your landscape with visual splendor and the calming sound of flowing water.


Streams and Watercourses - Mimic the natural water flow with gently winding streams and watercourses. They add movement, inviting a sense of serenity and creating a dynamic connection with nature.


Reflecting Pools - These shallow pools mirror the sky and surroundings, giving your space a sense of depth and tranquility. They're perfect for modern and minimalist designs.
In addition to these water features, we build bubbling rocks, rain curtains, wall water features, and spillways. Our team will assess the available space and consider your ideas and requirements before providing suitable water features for your yard or landscape.


Customized Water Feature Installations
Our focus lies in delivering exceptional results through custom design and flawless installation. We take pride in collaborating closely with you to create unique, personalized designs that align with your vision. Our dedicated team combines artistic creativity with technical precision and considers every detail.

We execute perfect installations with unwavering attention to quality using the latest techniques and premium materials. The result is a harmonious blend of your ideas and our expertise, transforming your outdoor space into a captivating masterpiece that reflects your style and enhances your lifestyle.

Preferred Outdoor Designs LLC offers commercial and residential clients comprehensive water feature design and installation. For additional details, call our knowledgeable team at 502-245-3997 or email us through this Online Form. One of our experts will contact you to discuss your water feature requirements.