Patio Design and Installation Contractor in Crestwood, KY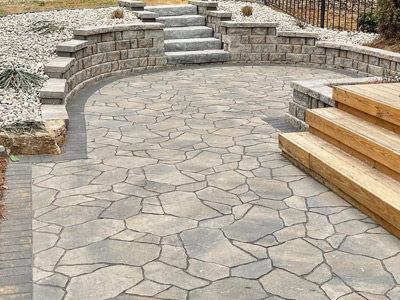 Are you planning on creating an outdoor haven in your yard? A spot where you can relax in the open air after a busy day? Then perhaps constructing a patio is the best option. A patio is typically a covered, paved, or concreted space. This way, you may relax in your outdoor living areas without worrying about sunburn, no matter how bright the sky is. Let us create a new patio to transform your outdoor living area into the ideal retreat. Customers in Crestwood, KY and the surrounding region can rely on Preferred Outdoor Designs, LLC for all their patio design and installation needs.


Patio Design and Installation Contractor
You will get a beautifully paved patio thanks to the skills and knowledge of our team of professional paving contractors. For aesthetic or practical reasons, installing a patio at one's home or business has become a relatively common landscaping project. This is because it offers so many advantages. You'll have a space to host family and friends and a spot to unwind.

Additionally, it will improve the aesthetic appeal of the exterior spaces, raising the value of your residential or commercial property. You can extend your indoor living space outside with a patio which is another example of how it can significantly improve a space's aesthetics and functionality. The addition of a patio is one of the most rewarding home improvements you can make.


Patio Pavers
You must select the appropriate materials for your patio and the other hardscaping elements in your backyard if you want them to last for many years with little maintenance. Patio paver are a great material option, and we always recommend the best products to our customers. As a full-service hardscaping company, we provide excellent paver patio design and construction. Because there are so many different paver products on the market, we provide you with all the information you need to choose the best paver for your needs.

Pavers are available in various patterns, colors, sizes, and styles. Our team will work with you to design and construct a stunning walkway or foyer. We offer specialized paver patio solutions at the most competitive prices, so you get beautiful outdoor spaces worth your money. Our team is available to meet your specific needs for both commercial and residential patios. Your new patio's flooring can be made from a variety of materials, including the following:
Brick pavers
Permeable pavers
Interlocking concrete pavers
Natural stone pavers
Local Patio Design and Installation Experts
We can create and construct a patio tailor-made to your home's aesthetic needs. Our designers will work with you and help you in choosing the best products and materials for your outdoor patio. Your satisfaction with our paver installation is guaranteed. We greatly delight in ensuring our clients are happy with their paver patio. Our company offers the perfect balance of quality, reliability, and cost, thus ensuring you get the value you expect.

Customer satisfaction is paramount to our business since we know that you ensure our continued success. So, get in touch with us right now, and we'll provide you with a free consultation to help you take the first step toward getting the patio you desire! We focus on customization, and you get personalized attention from our expert team, no matter how big or small your requirement.

For additional information on how we can help with your patio paver needs in Crestwood, KY, please call Preferred Outdoor Designs, LLC at 502-245-3997. You can also get more information about our patio design & installation contractor services by dropping us a line via this Online Form.