Landscape Design & Build Services in Louisville, KY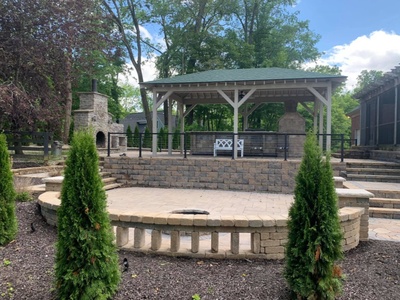 Preferred Outdoor Designs, LLC focuses on the design, construction, and upkeep of all aspects of hardscaping, landscape design, and lighting. Our mission is to provide our clients with the best possible services at the most affordable prices while transforming outdoor spaces into practical, functional, and enjoyable zones. We commit to being trustworthy and ethical and manage your project with the highest care and respect. We will always focus on the quality and craft in every task to guarantee that your home leaves a genuinely lasting impression.

From the first consultation until the project's conclusion, we collaborate with our clients to guarantee their dream becomes a reality. We oversee all parts of the designing and construction phases, whether working on a small water feature or a complex outdoor living environment. These are some of the services we offer:


Design-Build Services
Our knowledgeable and competent crew of landscape design and construction specialists can develop a landscape tailored to your property's needs. For many years, Preferred Landscape has provided a comprehensive range of landscape design and construction services throughout the area. We succeed by using a highly skilled, trained, and professional team of landscape designers, architects, and contractors. No task is too big or too little for us, and we will work with you to develop a budget that works for you.

We design your landscaping using cutting-edge software and technology, which allows our clients to see the finished product. Our designers will make recommendations on numerous design components, providing you with a fresh perspective on your landscape's layout and styling. We can create one-of-a-kind patios, decks, driveways, water features, walkways, retaining walls, and other outdoor living components.


Patio Pavers
Adding a patio to a house or business property is a popular outdoor living project. This is because it has a multitude of advantages. You will have a space to unwind and a spot to host parties and friends. Additionally, it will enhance the visual appeal of your outdoors, therefore increasing the value of your house or commercial property. A patio extends your indoor living area into the outdoors and is genuinely one of the best improvements homeowners can make to their property!

We install patio pavers in various styles, including interlocking concrete, brick, and natural stone. These products are available in various designs, colors, patterns, and shapes. Our skilled designers will work with you to ensure that you get perfectly paved outdoor spaces on your property.


Retaining Walls
Retaining walls are an excellent addition to any outdoor setting; they enhance the aesthetics and utility of any home or business environment. We have installed retaining walls of all shapes and sizes for many years. Our experts will design a wall specifically for your property's needs and specifications. Retaining Walls are frequently erected to allow for the use of sloping parcels of land that would otherwise be unusable or a waste of space.

Wouldn't it be great to install some flower beds or possibly a water feature in these vacant spaces? Allow our staff to transform those previously unusable sections of your environment into something truly remarkable and distinctive. Our designers are equipped with the expertise and experience necessary to tackle even the most challenging scenarios. We work with the best retaining wall systems on the market, and you can be sure that these structures will add to your property's functionality, aesthetics, and value.

For details about our retaining wall, design and build and patio paver installations in Louisville, KY, call Preferred Outdoor Designs, LLC at 502-245-3997 or send us an email via this online form, and we will call you back shortly.