Outdoor Living Services in Clarksville, KY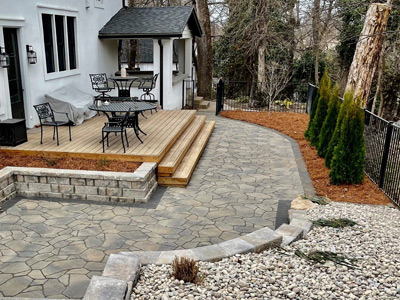 We at Preferred Outdoor Designs, LLC are a full-service landscaping company that has been in business for many years and specializes in creating stunning outdoor living spaces, kitchens, and fireplaces for residential and commercial clients. We've had a lot of success serving the clients in Clarksville, Kentucky, and the surrounding area by offering high-quality outdoor solutions.

With the help of our landscape designers and contractors, we'll create the outdoor kitchen and fireplace features of your dreams, which you can use for many years to come. You will find that you want to spend much more time outside, simply relaxing on your new beautifully paved patio or having delightful conversations while sitting by the outdoor fireplace. Both activities will appeal to your inner desire to be outside.

Outdoor living spaces and features can increase the value of your property by making your landscapes more usable. Creating outdoor living spaces is a fantastic investment, not only for your social and personal life but also for the potential value of your commercial or residential property in the future.


Outdoor Living Areas
We can add a new feature to your outdoor living space that completely transforms its appearance and functionality, expanding your outdoor living space. It doesn't matter how big or small your area is, our designers can handle it all. Your outdoor living or fireplace will be designed to fit your space and your requirements.

In this way, not only are you enhancing your landscapes, but you're also enhancing your home. The days of hosting parties inside and making the house a sloppy mess are long gone. Having a fireplace in your backyard means enjoying all your outdoor entertaining even when it's cooler outside. Spending a small amount of money to expand your outdoor living spaces is a worthwhile endeavor. Here are a few of the features that our team of expert designers can create:
Fire pits
Pergolas
Patios
Pool decks
Outdoor fireplaces and fire pits
Decking
Arbors
Other
Patio Enclosures
To get the most out of your time spent outside, it's best to have a custom patio or porch constructed. These features increase the usable space in your home but also enhance the overall value of your property. Although paved patios and porches are already top-notch landscape features, they could still be enhanced in terms of both usability and appearance. Patio enclosures and screens for porches are two examples of ways to keep out the rain and create a charming and private space where you can relax with your family and friends.

When installing paved patios for clients, our team focuses on creating functional, eye-catching, and durable enclosures. The designs can be tailored to suit the needs of our clients. Glass, wood, vinyl, aluminum, are just some of the materials that we use to construct patio enclosures for our clients. These enclosures are great for both attached and separate patios because they protect the pavers from the weather.

Property owners can benefit in several ways by getting a patio enclosure in their backyard. For starters, the patio's functionality is vastly improved. In addition to relaxing and spending quality time with loved ones, the area can be used for special occasions. While saving money on renovations, you get a whole new living space with a short time, and you can relax in your outdoor living area at any time of the day or year.

For more information on our outdoor living services in Clarkesville, KY, get in touch with Preferred Outdoor Designs LLC via this Online Form or give us a call at 502-245-3997, and we will get back to you within the shortest possible time.