Hardscaping Company in Shelbyville, KY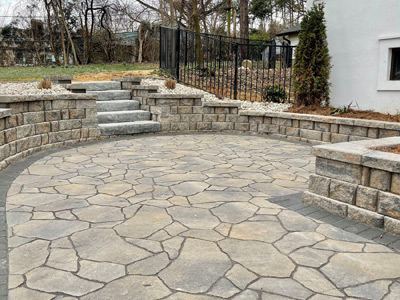 Hardscaping components serve as the foundation of all landscapes. How long your landscape will endure depends on the materials used and the quality of the installation. Furthermore, valuable, and practical landscapes require proper design and planning.

Design and installation are included in the comprehensive hardscape services Preferred Outdoor Designs, LLC, offers. Our expertise in this industry enables us to provide clients in and around Shelbyville, KY, with affordable, high-quality hardscaping services.


Hardscaping Services
We are the region's recommended hardscaping company for a reason. Our expertise in this industry enables us to provide our clients with affordable, high-quality hardscaping solutions. Whether you want a complete design and installation of hardscape components or just a few natural stone or masonry accents, we can help.

Before offering our recommendations and ideas, we conduct extensive research on the client's needs to ensure that we understand their goals and vision comprehensively. We ensure that our designs and plans meet your specifications.

Every feature we design and construct for you will be sturdy and long-lasting, and we will ensure you obtain an exceptional return on your investment. Our team will inform you about the many materials and products on the market. They will recommend those that complement the overall design concept of your landscape. We design and build beautiful outdoor spaces that complement the architectural elements of your house.


Pavers
Creating robust and easy-to-maintain hardscapes requires using outdoor-grade materials that are attractive and durable. We propose paving stones for hardscapes. We design and build unique hardscapes for most of our clientele, who desire high-quality driveway installation. Here is a look at why pavers are an excellent option for these surfaces.


Benefits of Pavers For Outdoor Areas
Using pavers in outdoor spaces like gardens and yards has several benefits, such as:


Pavers serve a variety of purposes and are hence highly practical. You can rest assured that the materials will provide adequate grip and won't lead to any unwanted slips or falls.


There is a wide range of paver styles, colors, and textures available. With so many options, it's easy to tailor outdoor areas to your taste. Skilled hardscaping designers will work with you to ensure you get superb paver designs and ideas.


Brick, stone, and concrete are some options available to you when selecting your paver material.


Paver stones can be used for almost any exterior surface, such as patios, decks, pathways, entryways, walkways, and driveways. These products make it easy to keep the exterior of your home looking uniform.


Professional hardscapers carefully sand and seal the paved surfaces once installed, making the surfaces scratch and stain resistant.


Every homeowner wants easy-to-maintain features in their backyard. When it comes to upkeep, pavers require occasional hosing.


These products are robust and not easily damaged. Yet another significant advantage is that you can replace individual paver units with identical ones in the event of damage.
High-Grade Hardscaping Services
Whether you are looking for a new driveway, patio, deck, pathway, or outdoor living area installations, pavers are the ideal option. We work closely with you, taking the time to understand your needs before coming up with the best hardscape and paver plans. We use the best pavers and masonry products and materials in our work, ensuring your hardscaping's durability and longevity. Our designers use their creativity and knowledge to design the perfect outdoor spaces for your needs.

Preferred Outdoor Designs, LLC, offers start-to-end hardscaping solutions to commercial and residential clients. For additional information about our services, please call 502-245-3997 or write to us via this Online Form. We will call you back to consult on your hardscape requirements.